KING residence RENOVATION
LOCATION: DETROIT, MICHIGAN - HISTORIC INDIAN VILLAGE NEIGHBORHOOD
STATUS:IN DESIGN PHASE
SIZE: APPROXIMATELY 3,000 square feet
AN HISTORIC HOME TRANSFORMED INTO A PRIVATE OASIS.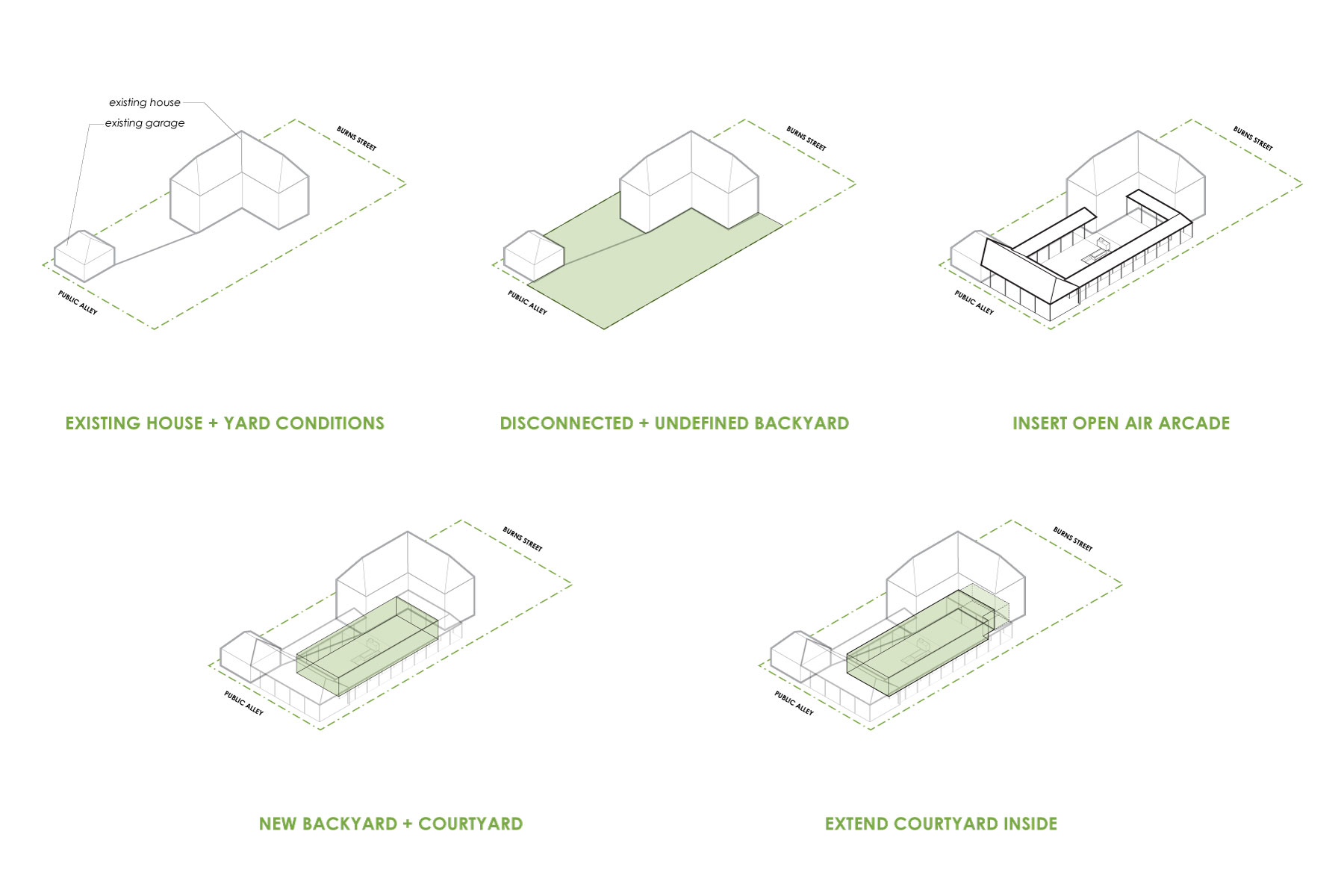 PROJECT DESCRIPTION:
The design goal for this historic home renovation was to make the residence more accommodating to entertaining guests and having small private parties. Originally built in the 1920's, the King Residence is a large house of small, individual and independent rooms - a standard feature for homes designed in its era. In addition, there were poor connections between the main house and the undefined backyard. Using these discoveries as inspiration, we selectively removed walls on the first floor enabling us to merge certain rooms to create larger social spaces with better flow and better entertainment capabilities. We then established a connection to the yard by wrapping it with a column-lined arcade. This organizes the undefined space into a private entertainment courtyard which also extends inside the house, and creates the feeling of one large social space. The visual focal points for the entire design are the stone firepit/grill in the court and staircase in the yard. By removing walls from around the stair, we turned the steps into a shelving system. Now, something that was formerly a utility for the house, becomes a piece of sculpture that can be seen from anywhere on the house's entertaining level. Picking up on cues from other houses in the neighborhood, we surrounded the frontyard in a 3' masonry site wall. This gives the house a stronger presence on the street, helps with security, and clearly defines what is public and private property. The result is a renovated historic home that keeps its charm and is ready take on another 100 years.